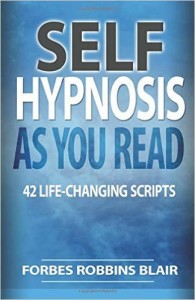 Forbes Robbins Blair has written this interesting book with a very different flair than most books you can ever find. This is DEFINITELY a very different deal than what you are used to. Have you ever even heard of a book like this before? Probably not. And I think more authors should take note and make these types of books.
This book addresses you, the reader, very specifically. As you read the script that you wish, you will become hypnotized into a trance as you read. The method is fantastic and Blair has laid it out very well. You can tell he knows how this is done. Well, this isn't his first time writing a book like this, so there's no surprise.
First you read an induction script (your choice of 4, they are all quite good). Then you read the script containing the effects that you want. This is really effective for a number of reasons. First of all, you are reading it, so you follow each and every word very closely. Secondly, you are instructed to read very slowly and this causes an automatic trance. Not to mention the fact that reading is already a light trance in itself (often a very DEEP trance too). Absolutely brilliant.
This book is recommended if you like a few of the scripts contained within. Honestly, you aren't going to read all of them, just a select few. Especially when some are very specific ones such as "stop drinking coffee" and "stutter anxiety relief", all the way to "freedom from porn addiction".
The "perpetual stress relief" script is excellent and HIGHLY recommended to anyone. If you would like this one and at least one or two more scripts, then this is totally worth it.
Rating: 9/10
Excellent book, but I didn't like the way some of the suggestions were done. I used a marker to cover the parts that I didnt like. It was only a few paragraphs in total. Otherwise this is 10/10
Perpetual stress relief
Drop the last ten pounds
Let go of the baby weight
social anxiety relief
money Stress relief
manifest a new job
save more money
get over your ex
fall back in love with your mate
magnetic sex appeal
approach hot women
delay and intensify ejaculations
expand your comfort zone
pursue your dream
stop overreacting
stop cussing
more loving and affectionate
embrace your age
love my body as it is
shrink cancerous tumors
fibromyalgia relief
tinnitus relief
freedom from eczema
IBS relief
feel fine with heights
overcome hypochondria
release fear of abandonment
override fear of rejection
okay with confrontation
comfortable expressing anger
freedom from porn addiction
conquer compulsive masturbation
stop drinking coffee
eat less chocolate
love cleaning house
break shopping addiction
stutter anxiety relief
overcome blushing
never be late again
tennis focus
sports excellence
be more psychic and intuitive
Want to be hypnotized by Email?
Get emails from Jack that trance you and deepen the effects each day. (It's free!)